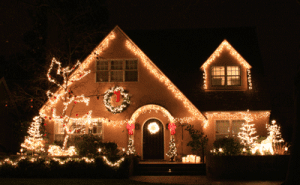 Christmas light installation is so commonplace in our culture that we often don't give it a second thought, but many injuries happen each year from improper Christmas light installation and related fires or installation-related accidents. It's important to go about Christmas light installation safely and with proper equipment. Here's our list of what NOT to do when installing your Christmas lights.
Don't just wing it. Before beginning your Christmas light installation, it's important to have a plan. Figure out the design you want to have on your house and where you intend to install lights. Locate your power source and make a plan for where your lights will be plugged in. Measure the areas you wish to put lights on and figure out how many strands of lights you will need. Check the maximum voltage you can have connected and make a plan for more power connections if needed.
Don't use outdated lights. If you use old lights, they pose a fire risk. It's better to update old strands of lights than have your home go up in flames.
Don't use the wrong type of lights. Christmas lights are designated to be either outdoor or indoor. Outdoor lights will be weather-resistant and longer lasting. Using indoor lights outside could at the very least short out your strand, and at worst start a fire on your roof.
Don't install Christmas lights by yourself. It's much safer to have a partner when doing Christmas light installation. Not only will it be safer since you'll have someone to hold the ladder, but it will go faster, too.
If all of this is giving you a headache and has you questioning your desire to even hang lights this Christmas season, don't forget that you can call us at Peak Performance Roofing & Exteriors, and we'll do your Christmas light installation for you. Our professional roofers are pros at getting your lights hung and making them look just right. We'll save you hours of labour and frustration and make sure you have the best-looking house on the block!
Save