There are many advantages to using vinyl siding for your Collingwood home.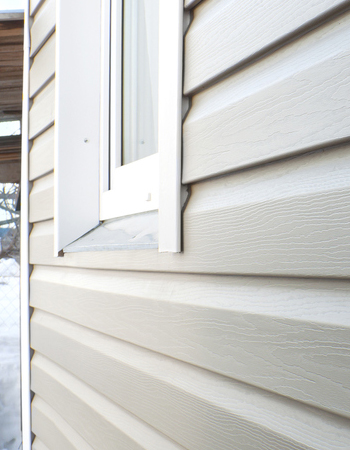 If you were to tell your grandparents that you were thinking about vinyl siding for your Collingwood, Ontario home, their reactions might not be very favourable. That's because it wasn't too many generations ago that vinyl siding was poorly made with cheap and sub-standard materials, making it a poor choice with which to clad your home. These days, however, vinyl siding is one of the best exterior materials for your home thanks to its many advantages.
First, vinyl siding is durable. While it was once poorly constructed, the vinyl siding of today is made with much more durable materials. This makes vinyl siding impervious to water, rot, mold, and warping. Your durable vinyl will look the same as it did from the day of installation for years to come!
Second, vinyl siding is a great insulator. Vinyl siding gives your walls an extra layer of protection from wind, snow, rain, and heat. This means that you'll be able to keep your home at a more consistent temperature year-round, making for all-around comfortable living.
Lastly, the style and wide variety of colour options for vinyl siding can't be beat. You'll be pleasantly surprised at the rainbow of colours you can get with vinyl siding, as well as different styles. And because vinyl is an affordable product, you can get a home that looks great and customized for a fraction of the price.
If you would like to learn more about vinyl siding for your next project, we want to help! Contact us at Peak Performance Roofing & Exteriors for more information about our vinyl siding.
---
At Peak Performance Roofing & Exteriors, we install vinyl siding in Orillia, Barrie, Alliston, Collingwood, Innisfil, Angus, Midhurst, and Midland, Ontario.