Our roofers put your satisfaction above all else.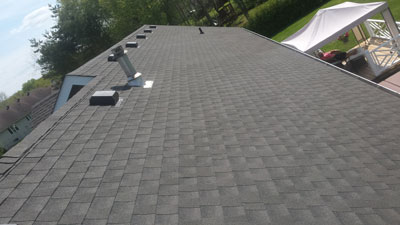 Regardless of your level of DIY expertise, roofing is one home improvement project that's always best left up to professional roofers. Whether you're worried about a few missing shingles or you know your roof is headed for replacement based on age, you want the roofers you call to be friendly, reliable, honest, and upfront with you. Here at Peak Performance Roofing & Exteriors, we offer all of these qualities and more!
Our roofers want to make your project a complete success from beginning to end. Here's a closer look at some of the roofing projects we work on in the Innisfil, Ontario area:
Roofing installation—Are you building a property, or did you add an addition to your current home? Our roofers will expertly install the structure's new roof, so it delivers unwavering performance for years to come.
Roofing replacement—Unfortunately, your home's roof won't last forever. If it looks like it's time to replace your roof, we'll give you our honest opinion about the project and provide a competitive quote.
Roofing maintenance—The best thing you can do for your roof is to make maintenance a top priority. Schedule our roofers to come over at least on an annual basis to check out your shingles, flashing, gutters, and other essential components of your roofing system.
When it comes to roofers, it doesn't get better than the roofers we have here at Peak Performance Roofing & Exteriors! The next time you need help with your home's roof, don't hesitate to give us a call.
---
At Peak Performance Roofing & Exteriors, our roofers proudly serve Barrie, Alliston, Collingwood, Orillia, Innisfil, Angus, Midhurst, and Midland, Ontario.